PUBLICACIONES DE INVESTIGADORES DE LA FACULTAD DE CC BIOLÓGICAS
Elena Tena, Guillermo Fandos, Óscar de Paz, Roberto de la Peña, José Luis Tellería
Size does matter: Passive sampling in urban parks of a regional bat assemblage
Urban Ecosyst (2019).
DOI: 10.1007/s11252-019-00913-2
RESUMEN
We studied the occurrence of bats in urban parks in the city of Madrid (Spain), and the resulting patterns were compared with bat occurrence in the surrounding region. In this way, we addressed if the presence of individual species in the study parks was positively related to their regional occurrence and the way some geographical and environmental traits affected bat richness and composition in urban parks. We analysed urban parks varying in area, structure and distance to the edge of the town. During two years, bats occurring in parks were sampled using ultrasound detectors. A similar sampling method was carried out for four years in the countryside around the city to detect the regional pool of species. The results show that the occurrence of individual species in urban parks was a reduced sample of the regional pool of species and that there was a positive relationship between the occurrence of species in urban parks and the surrounding countryside. This pattern suggests that the more distributed bats at a regional scale were the most frequent ones in parks within the urban matrix. Park area was the main determinant of bat richness. In addition, bat richness distribution reported a nested pattern of species loss as park area decreased. This suggests that bat occurrence in the study parks can be interpreted as the results of a passive sampling of individual species occurring at the regional scale, and that park size was the main determinant of the species occurrence. We conclude that more proactive approaches to bat conservation could be carried out in order to improve the presence of some rare species in urban parks.
Sánchez-Elordi, E., M. Díaz, E., de Armas, R., Santiago, R., Alarcón, B., Vicente, C., Legaz, M.E.
Effects of abiotic stresses on sugarcane plants with emphasis in those produced by wounds and prolonged post-harvest periods.
In: Durgesh Kumar Tripathi, Vijay Pratap Singh, Devendra Kumar Chauhan, Shivesh Sharma, Sheo Prasad, Navneet Kumar Dubey, Naleeni Ramawat, eds., Plant Life under Changing Environment, pp. 249-267, Academic Press, London.
DOI: ISBN: 9780128182048
RESUMEN
The effects of different environmental stresses on growth, efficiency in biomass production, and on the accumulation of sucrose in sugarcane cultivars are studied. Thermal, nutritional, saline, and drought stresses have similar effects on sensitive cultivars: decrease in size of the plant; decrease in the photosynthetic efficiency, possibly accompanied by chlorosis of the leaf; alterations in the integrity of membrane systems; loss of the ability of sucrose accumulation; and accumulation of reactive oxygen species. In the case of wound stress, these phenomena are accompanied by an enhanced production of soluble carbohydrates and glycoproteins that appear to act as healing molecules or protective responses against casual infections. A good number of resistance genes have been characterized that encode for the synthesis of osmoregulatory small molecules, such as proline or trehalose, for proteins that ensure the integrity of photosystems and for enzymes that produce antioxidant metabolites. The possibility of using these cloned genes in the production of transgenic plants with high resistance to stress is discussed.
Lozano D, Morona R, González A, López JM.
Comparative Analysis of the Organization of the Catecholaminergic Systems in the Brain of Holostean Fishes (Actinopterygii/Neopterygii).
Brain Behav Evol. 2019;93(4):206-235.
DOI: 10.1159/000503769.
RESUMEN
Los peces holósteos forman un pequeño grupo monofilético de peces actinopterigios, actualmente considerado como el grupo hermano de los teleósteos, que ha sido generalmente ignorado en los trabajos neuroanatómicos. Hemos estudiado los sistemas catecolaminérgicos por medio de anticuerpos contra la enzima tirosina hidroxilasa (TH) y la dopamina (DA) en el encéfalo de especies representativas de los tres géneros que componen los dos órdenes de peces holósteos: Amia calva (Amiiformes), y Lepisosteus platyrhincus, Lepisosteus oculatus y Atractosteus spatula (Lepisosteiformes). En el telencéfalo se han observado diferentes grupos de células inmunorreactivas para TH/DA en el bulbo olfativo, el subpallium y el área preóptica. Se han encontrado poblaciones hipotalámicas en el núcleo supraquiasmático, las áreas retrotuberal y retromamilar y, específicamente marcado con DA, el órgano paraventricular. En el diencéfalo, se han detectado grupos inmunorreactivos en el pretálamo, el tubérculo posterior y el pretecho. El rombencéfalo caudal presenta poblaciones catecolaminérgicas en el núcleo del tracto solitario y el área postrema, y además en la médula espinal y la retina también se detectaron sendos grupos de células marcadas. En el caso de A. calva, se observaron, además de los grupos ya mencionados, células catecolaminérgicas en el área tuberal hipotalámica, la habénula, el tegmento mesencefálico y el locus coeruleus. El análisis comparativo, siguiendo el modelo neuromérico, de estos resultados con los obtenidos en otras clases de peces y tetrápodos muestra rasgos comunes de los sistemas catecolaminérgicos compartidos por la mayoría de vertebrados y resalta características únicas de los peces actinopterigios Lepisosteiformes como la carencia de un grupo noradrenérgico en el rombencéfalo rostral análogo al locus coeruleus.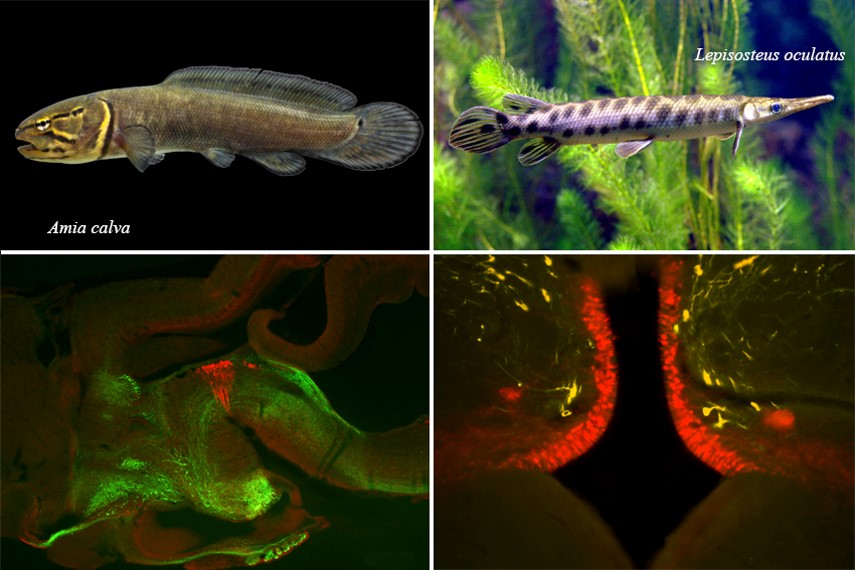 García-Díaz, M., Patiño, B., Vázquez, C., Gil-Serna, J.
A Novel Niosome-Encapsulated Essential Oil Formulation to Prevent Aspergillus flavus Growth and Aflatoxin Contamination of Maize Grains During Storage
Toxins, 11 (11) 2019
DOI: 10.3390/toxins11110646
RESUMEN
Aflatoxin (AF) contamination of maize is a major concern for food safety. The use of chemical fungicides is controversial, and it is necessary to develop new effective methods to control Aspergillus flavus growth and, therefore, to avoid the presence of AFs in grains. In this work, we tested in vitro the effect of six essential oils (EOs) extracted from aromatic plants. We selected those from Satureja montana and Origanum virens because they show high levels of antifungal and antitoxigenic activity at low concentrations against A. flavus. EOs are highly volatile compounds and we have developed a new niosome-based encapsulation method to extend their shelf life and activity. These new formulations have been successfully applied to reduce fungal growth and AF accumulation in maize grains in a small-scale test, as well as placing the maize into polypropylene woven bags to simulate common storage conditions. In this latter case, the antifungal properties lasted up to 75 days after the first application.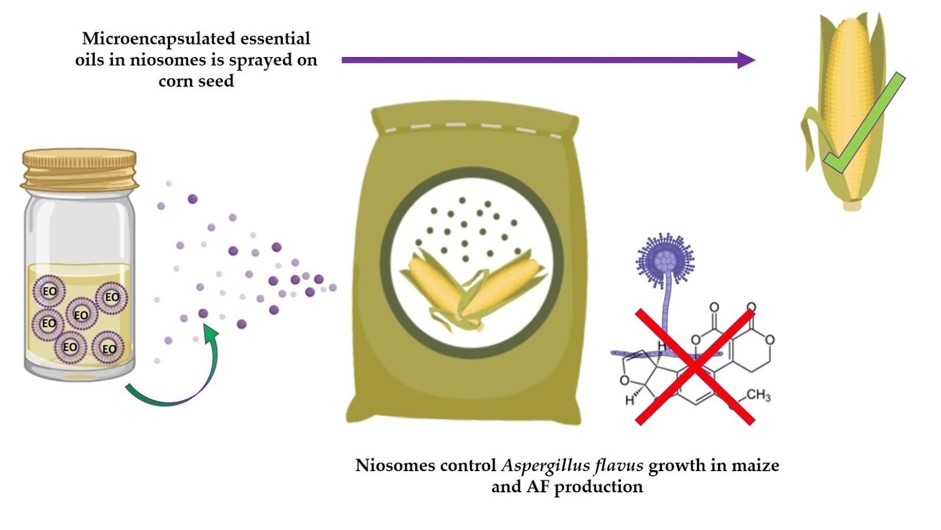 Daniel Hormigo, María Teresa López-Conejo, Lara Serrano-Aguirre, Alberto García-Martín, Ana Saborido, Isabel de la Mata & Miguel Arroyo
Kinetically controlled acylation of 6-APA catalyzed by penicillin acylase from Streptomyces lavendulae: effect of reaction conditions in the enzymatic synthesis of penicillin V
Biocatalysis and transformation 2019
DOI: 10.1080/10242422.2019.1652274
RESUMEN
Marrero-Hernández S, Márquez-Arce D, Cabrera-Rodríguez R, Estévez-Herrera J, Pérez-Yanes S, Barroso-González J, Madrid R, Machado JD, Blanco J, Valenzuela-Fernández A.
HIV-1 Nef Targets HDAC6 to Assure Viral Production and Virus Infection.
Front Microbiol. 2019 Oct 30;10:2437.
DOI: 10.3389/fmicb.2019.02437.
RESUMEN
De la Fuente M.
Where Could Research on Immunosenescence Lead?
Int J Mol Sci. 2019 Nov 25;20(23). pii: E5906.
DOI: 10.3390/ijms20235906.
RESUMEN
En esta revisión se recogen nuevas aportaciones y perspectivas en el campo de la inmunosenescencia y los procesos relacionados con la misma. Todas ellas asumen, en mayor o menor medida, el estrés oxidativo e inflamatorio que subyace al envejecimiento y en el que el sistema inmunitario está implicado, especialmente la inmunidad innata. Se destacan las diferencias de género en el estado inflamatorio así como el papel de las células madre en el envejecimiento. También se identifican algunos nuevos marcadores de envejecimiento saludable y patológico.
Pérez-Ruzafa A, Morkune R, Marcos C, Pérez-Ruzafa IM, Razinkovas-Baziukas A.
Can an oligotrophic coastal lagoon support high biological productivity? Sources and pathways of primary production.
Mar Environ Res. 2019 Oct 31:104824.
DOI: 10.1007/s10695-019-00687-6.
RESUMEN
Garralda MD, Maureille B, Le Cabec A, Oxilia G, Benazzi S, Skinner MM, Hublin JJ, Vandermeersch B.
The Neanderthal teeth from Marillac (Charente, Southwestern France): Morphology, comparisons and paleobiology.
J Hum Evol. 2019 Nov 22;138:102683
DOI: 10.1016/j.scitotenv.2019.133874
RESUMEN
Pocos yacimientos europeos han proporcionado restos dentales humanos datados con seguridad al final del MIS 4/principio del MIS 3. Uno de ellos es Marillac (suroeste de Francia), una cueva kárstica colapsada donde las excavaciones arqueológicas realizadas por B. Vandermeersch desenterraron numerosos restos de fauna y humanos, así como algunas herramientas del Musteriense Quina. El yacimiento de Marillac fue utilizado ocasionalmente por los humanos para procesar los cadáveres de diferentes presas, pero no hay pruebas de que el lugar hubiera sido utilizado para fines residenciales, ni se ha encontrado ningún hogar. También se descubrieron huesos de carnívoros, lo que demuestra que la cavidad fue utilizada estacionalmente, no sólo por los Neandertales, sino también por depredadores a lo largo de varios milenios. Las unidades litoestratigráficas que contienen los restos humanos fueron fechadas en ∼60 kyr. Los fósiles consisten en numerosos fragmentos de cráneos y mandíbulas, dientes aislados y varios huesos poscraneales, muchos de ellos con rastros de manipulaciones perimortem, de interpretación discutida. En este trabajo se analizan dieciséis dientes humanos inéditos (catorce permanentes y dos deciduos) detallando la morfología externa y la variación métrica con respecto a otros restos Neandertales y una muestra de poblaciones modernas. También investigamos la distribución del espesor del esmalte en 2D y 3D, la morfología de la unión esmalte-dentina (utilizando morfometría geométrica) de un molar y dos premolares, las raíces y la posible expresión del taurodontismo, así como patologías y defectos del desarrollo, o el uso de los dientes anteriores y las actividades paramasticatorias. Detallamos alteraciones morfológicas y estructurales en varios dientes, interpretadas a la luz del comportamiento humano (huellas de palillos) y de las intervenciones de los carnívoros (digestión parcial). Los datos se interpretan en el contexto de la información disponible para los Neandertales euroasiáticos.
Urbanek AK, Mirończuk AM, García-Martín A, Saborido A, de la Mata I, Arroyo M.
Biochemical properties and biotechnological applications of microbial enzymes involved in the degradation of polyester-type plastics.
Biochim Biophys Acta Proteins Proteom. 2019 Nov 16;1868(2):140315.
DOI: 10.1016/j.bbapap.2019.140315.
RESUMEN
Garralda MD, Maíllo-Fernández JM, Higham T, Neira A, Bernaldo de Quirós F.
The Gravettian child mandible from El Castillo Cave (Puente Viesgo, Cantabria, Spain).
Am J Phys Anthropol. 2019 Aug 8.
DOI: 10.1002/ajpa.23906
RESUMEN