PUBLICACIONES DE INVESTIGADORES DE LA FACULTAD DE CC BIOLÓGICAS
Sánchez-Elordi, E., Baluska, F., Vicente, C., Legaz, M.E.
Sugarcane glycoproteins control dynamics of cytoskeleton during teliospore germination of Sporisorium scitamineum
Mycol. Progr. 18:1121-1134, 2019.
DOI: 10.1007/s11557-019-01510-5
RESUMEN
Sporisorium scitamineum teliospores possess an organized cytoskeleton involved in important developmental and physiological processes. It has been described that microtubules appear to be fundamental for nucleus translocation during germination and hyphal growth whereas actin polymerization is necessary for the formation of invaginations during teliospore displacement. Here, a global vision of the actin cytoskeleton organization throughout the life cycle of S. scitamineum cells is shown, providing evidence that a perfectly structured F-actin network is necessary to trigger smut pathogenicity. Moreover, although myosin presence in teliospores had been previously described, herein actin and myosin co-location is demonstrated by confocal microscopy during both invaginations formation and germination. In turn, F-actin and microtubules (MTs) interact, jointly participating in the establishment of cell polarity. The resistant sugarcane cultivar Mayari 55-14 produces high molecular mass glycoproteins (HMMG) that differently affect F-actin organization at different stages of fungal development. HMMG first supported F-actin to induce the movement of teliospores towards the cytoagglutination points. At later stages of fungal development, HMMG disorganized F-actin which prevented the protrusion of germinative tube. A continuous exposure to HMMG provoked apoptosis in pathogenic, diploid cells and a delay in sporidia conjugation that could be crucial for plant resistance.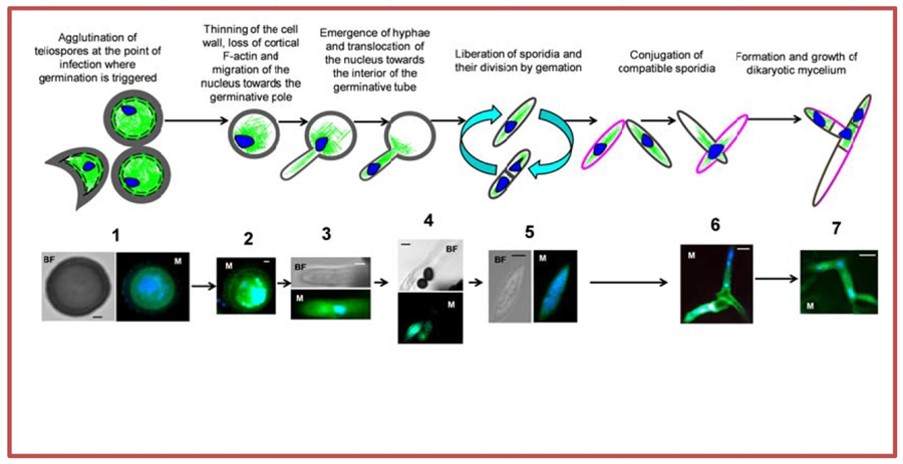 Sousa, A.A.R., Barandica, J.M., Rescia, A.
Ecological and economic sustainability in olive groves with different irrigation management and levels of erosion: A case study
Sustainability (Switzerland), 11 (17), art. no. 4681, .
DOI: 10.3390/su11174681
RESUMEN
En los últimos 50 años, la energía usada para el riego se ha multiplicado por 8 en la agricultura española. El objetivo principal de la aplicación del regadío, al corto plazo, es el aumento de la producción agrícola. Sin embargo, al largo plazo, las externalidades ambientales del riego y su relación directa con los procesos de erosión del suelo están aún poco estudiadas. En este estudio, en una comarca olivarera de Andalucía, región que concentra el 60% de los olivares de España se analizó la variación de los principales factores edáficos debida a la erosión e implantación del regadío. Los resultados mostraron que la aplicación de riego, aunque incrementa el nivel productivo del olivar a corto plazo, conlleva una degradación progresiva del suelo, modificando aspectos físicos (mayor compactación y humedad edáfica junto a una menor profundidad útil, contenido en gravas, porosidad, aireación y peso de suelo) y químicos (disminución de pH y materia orgánica edáfica e incremento de la conductividad y del contenido en nitratos, fosfatos y potasio del suelo), que agrava las consecuencias de los procesos erosivos. De esta manera, el beneficio productivo-atribuido al riego sería insostenible en términos ecológicos y, en consecuencia, económicos a largo plazo. Adicionalmente, esta falta de sostenibilidad de los agro-sistemas de olivar bajo riego junto a las consecuencias restrictivas futuras que tendrá el cambio climático sobre el recurso hídrico en ambientes mediterráneos, demandan la planificación de gestiones alternativas basadas en la conservación del medio edáfico con la finalidad de garantizar la perdurabilidad del cultivo y su viabilidad económica.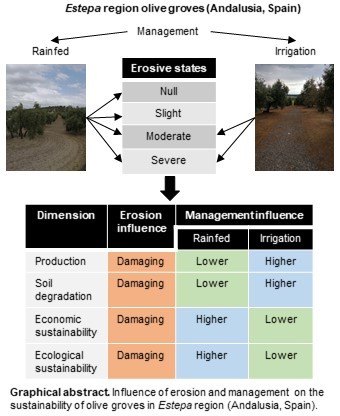 Gomez-Lucia, E., Collado, V.M., Miró, G., Martín, S., Benítez, L., Doménech, A.
Follow-Up of Viral Parameters in FeLV- or FIV-Naturally Infected Cats Treated Orally with Low Doses of Human Interferon Alpha
Viruses. 2019 Sep 11;11(9). pii: E845
DOI: DOI: 10.1016/j.ejsobi.2019.103114
RESUMEN
Specific treatments for the long-life infections by feline leukemia virus (FeLV) and feline immunodeficiency virus (FIV) are either toxic, expensive or not too effective. Interferon α (IFN-α) is an immunomodulatory molecule which has been shown in vitro to decrease the release of infective particles. The aim of this study was to follow the progress of the clinical score and viral parameters of FeLV- and FIV-naturally infected privately owned cats treated with recombinant human IFN-α (rHuIFN-α, Roferon-A). Twenty-seven FeLV-infected cats (FeLV+) and 31 FIV-infected cats (FIV+) were enrolled in the study. Owners were instructed to orally administer 1 mL/day of 60 IU rHuIFN-α/mL in alternating weeks for four months. Blood samples were taken at the beginning of the study (M0), mid-treatment (M2), end of treatment (M4), and 6-10 months later (M10). Clinical status at these time points improved notably with rHuIFN-α treatment, regardless of the initial severity of the disease, an effect which lasted throughout the study in most animals (15 of the 16 FeLV+ symptomatic cats; 20 of the 22 FIV+ symptomatic cats) improved markedly their clinical situation. In FeLV+ cats plasma antigenemia (p27CA), reverse transcriptase (RT) activity, and proviral load decreased at M2 and M4 but increased again at M10 ("rebound effect"). The level of antigenemia or RT activity was below the detection limits in FIV+ cats, and the effect on proviral load was less marked than in FeLV+ cats. Taken together, these results indicate that rHuIFN-α is a good candidate for treating FeLV+ cats, but the "rebound effect" seen when treatment was discontinued suggests that additional studies should be conducted to clarify its effect on progression of the infection in cats.
Gómez-Gómez B, Arregui L, Serrano S, Santos A, Pérez-Corona T, Madrid Y.
Unravelling mechanisms of bacterial quorum sensing disruption by metal-based nanoparticles.
Sci Total Environ. 2019 Aug 10;696:133869
DOI: 10.1016/j.scitotenv.2019.133869
RESUMEN
Ferreira NGC, Morgado RG, Cunha L, Novo M, Soares AMVM, Morgan AJ, Loureiro S, Kille P.
Unravelling the molecular mechanisms of nickel in woodlice.
Environ Res. 2019 Sep;176:108507.
DOI: 10.1016/j.envres.2019.05.038. Epub 2019 May 31.
RESUMEN
Ortuño T, López-Madrona VJ, Makarova J, Tapia-Gonzalez S, Muñoz A, DeFelipe J, Herreras O.
Slow-wave activity in the S1HL cortex is contributed by different layer-specific field potential sources during development.
J Neurosci. 2019 Sep 23. pii: 1212-19
DOI: 10.1523/JNEUROSCI.1212-19.2019
RESUMEN
Sørli JB, Låg M, Ekeren L, Perez-Gil J, Haug LS, Da Silva E, Matrod MN, Gützkow KB, Lindeman B.
Per- and polyfluoroalkyl substances (PFASs) modify lung surfactant function and pro-inflammatory responses in human bronchial epithelial cells.
Toxicol In Vitro. 2019 Sep 16:104656
DOI: 10.1016/j.tiv.2019.104656
RESUMEN
Azcoitia I, Barreto GE, Garcia-Segura LM.
Molecular mechanisms and cellular events involved in the neuroprotective actions of estradiol. Analysis of sex differences.
Front Neuroendocrinol. 2019 Sep 9:100787
DOI: 10.1016/j.yfrne.2019.100787
RESUMEN
Garcia-Mouton C, Hidalgo A, Cruz A, Pérez-Gil J.
The Lord of the Lungs: the essential role of pulmonary surfactant upon inhalation of nanoparticles.
Eur J Pharm Biopharm. 2019 Sep 24. pii: S0939-6411(19)30869-0
DOI: 10.1016/j.yfrne.2019.100787
RESUMEN
Matesanz S, Pescador DS, Pías B, Sánchez AM, Chacón-Labella J, Illuminati A, de la Cruz M, López-
Estimating belowground plant abundance with DNA metabarcoding.
Mol Ecol Resour. 2019 Sep;19(5):1265-1277.
DOI: 10.1111/1755-0998.13049
RESUMEN
Ruggiero A, García-Ortega L, Moreira M, Ragucci S, Landi N, Di Maro A, Berisio R.
Binding and enzymatic properties of Ageritin, a fungal ribotoxin with novel zinc-dependent function.
Int J Biol Macromol. 2019 Sep 1;136:625-631.
DOI: 10.1016/j.ijbiomac.2019.06.125
RESUMEN
Garcia-Segura, L.M., Veiga, S., Sierra, A., Melcangi, R.C., Azcoitia, I.
Aromatase: A neuroprotective enzyme
Progress in Neurobiology, 71 (1), pp. 31-41.
DOI: 10.1016/j.pneurobio.2003.09.005
RESUMEN
Guagliardo, R., Merckx, P., Zamborlin, A., Backer, L.D., Echaide, M., Pérez-Gil, J., De Smedt, S.C., Raemdonck, K.
Nanocarrier lipid composition modulates the impact of pulmonary surfactant protein B (SP-B) on cellular delivery of siRNA
Pharmaceutics, 11 (9), art. no. 431, .
DOI: 10.3390/pharmaceutics11090431
RESUMEN
Sánchez, N., Martínez, A.
Dungeons and dragons: Two new species and records of Kinorhyncha from anchialine cenotes and marine lava tubes
Zoologischer Anzeiger, 282, pp. 161-175.
DOI: 10.1016/j.jcz.2019.05.012
RESUMEN
Cepeda, D., Álvarez-Castillo, L., Hermoso-Salazar, M., Sánchez, N., Gómez, S., Pardos, F.
Four new species of Kinorhyncha from the Gulf of California, eastern Pacific Ocean
Zoologischer Anzeiger, 282, pp. 140-160.
DOI: 10.1016/j.jcz.2019.05.011
RESUMEN
Ruiz, J., Kiene, F., Belda, I., Fracassetti, D., Marquina, D., Navascués, E., Calderón, F., Benito, A., Rauhut, D., Santos, A., Benito, S.
Effects on varietal aromas during wine making: a review of the impact of varietal aromas on the flavor of wine
Applied Microbiology and Biotechnology, 103 (18), pp. 7425-7450.
DOI: 10.1007/s00253-019-10008-9
RESUMEN
Sánchez, N., Pardos, F., Martínez Arbizu, P.
Deep-sea Kinorhyncha diversity of the polymetallic nodule fields at the Clarion-Clipperton Fracture Zone (CCZ)
Zoologischer Anzeiger, 282, pp. 88-105.
DOI: 10.1016/j.jcz.2019.05.007
RESUMEN
Cepeda, D., Pardos, F., Sánchez, N.
A new species and first record of Dracoderes (Kinorhyncha: Allomalorhagida: Dracoderidae) from American waters, with an identification key of the genus
Zoologischer Anzeiger, 282, pp. 106-115.
DOI: 10.1016/j.jcz.2019.05.019
RESUMEN
Cepeda, D., Pardos, F., Sánchez, N.
Kinorhyncha from the Caribbean, with the description of two new species from Puerto Rico and Barbados
Zoologischer Anzeiger, 282, pp. 127-139.
DOI: 10.1016/j.jcz.2019.05.014
RESUMEN
Martínez de Toda, I., Vida, C., Sanz San Miguel, L., De la Fuente, M.
When will my mouse die? Life span prediction based on immune function, redox and behavioural parameters in female mice at the adult age
Mechanisms of ageing and development, 182, p. 111125.
DOI: 10.1016/j.mad.2019.111125
RESUMEN
Con el objetivo de detectar y validar marcadores predictores de esperanza de vida en la edad adulta, se analizaron 30 variables de función inmunitaria, estrés oxidativo e inflamatorio, así como conductuales en un grupo de 30 ratones hembras adultas que fueron estudiadas individualmente y en las que se registró su longevidad. Con los datos se hicieron, mediante regresión lineal múltiple, 3 modelos matemáticos (uno de función inmunitaria, otro de estado redox y el tercero conductual), así como un modelo combinado de función y estrés oxidativo, que seleccionaron las variables más robustas de cada caso. Los modelos fueron validados en otros lotes de animales demostrando que la correlación en cada individuo entre la predicción de los modelos y la esperanza de vida alcanzada era altamente significativa. Además, se observó que aquellos modelos que incluían parámetros de función inmunitaria resultaban ser los más robustos en la predicción.
de Sosa, I., Díaz Cosín, D.J., Csuzdi, C., Paoletti, M.G., Marchán, D.F.
Placing Eophila tellinii (Oligochaeta, Lumbricidae) in a molecular phylogenetic context advances the century-old controversy around the problematic genus
European Journal of Soil Biology, 94, art. no. 103114, .
DOI: 10.1016/j.ejsobi.2019.103114
RESUMEN
Naranjo, T.
The effect of chromosome structure upon meiotic homologous and homoeologous recombinations in Triticeae
Agronomy, 9 (9), art. no. 552, .
DOI: 10.3390/agronomy9090552
RESUMEN
Ruiz, J., Ortega, N., Martín-Santamaría, M., Acedo, A., Marquina, D., Pascual, O., Rozès, N., Zamora, F., Santos, A., Belda, I.
Occurrence and enological properties of two new non-conventional yeasts (Nakazawaea ishiwadae and Lodderomyces elongisporus) in wine fermentations
International Journal of Food Microbiology, 305, art. no. 108255, .
DOI: 10.1016/j.ijfoodmicro.2019.108255
RESUMEN